Although every room in my house is under construction in one way or the other, I'm going to share some of my rooms in the upcoming days because, first of all, I need to add rooms to my home tour besides the entry and hall, and secondly, I don't think any of my rooms will ever be completely done anyway. Even if I did manage to complete a room, I think then it would be time to start rearranging it again anyway.
This room is off of my entry. When I moved the red into my bedroom from the living room, it left me with this rug and the red drapes which needed to be moved somewhere and the study became their home. That left me without a rug in the entry, so the cowhide moved there.
The new entry look with the cowhide rug.

Since this is a "working study" I use this piece of furniture as storage for folders, paper, ink cartridges, etc. It's a handy piece to hold the printer and a basket keeps printer paper and envelopes handy.
In keeping with my Tex-Mex theme, I use this cute little horse that I found in an antique shop as my paperweight.


The other side of the room holds the Anthropologie inspired shelves I just recently posted about. I thought it was a good cheap solution for such a large wall.
I always start any project looking at the way a room functions. I needed to set this room up so that when my husband is home on the weekends, he can set up his computer opposite of mine. Notice how I claimed my side with the view? Well, I am here more than he is anyway, right?
Since I moved the rug and drapes in here, I have been itching to paint the room a different color. What do you think?
My wish list for this room would be a really cool light fixture. We still have the fan from the previous owners. I also need to come up with a solution for the mess of cords that I cleverly hid from your view. :) Oh well, project for another day.
Sharing with ~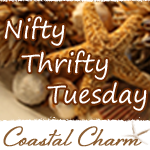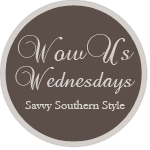 http://www.savvysouthernstyle.net
http://www.jenniferrizzo.com