Do you have high ceilings in your pantry that is just wasted space? Use that area as hanging storage for things like baskets with handles that you can't stack and that would normally take up a lot of needed storage space.
Here's the DIY step by step ~
Items that you will need:
Board (I used a white pine because I liked the knotty look) about $3.00 for a 6' piece
Hooks (I used 5 large galvanized hooks that I had left over from another project.)
Sandpaper
Stain (I used min wax aged oak gel stain)
Drill
Nails or Screws (I'll explain this later.)
Stud finder
Step one ~ Purchase your supplies. I went to home depot for the lumber. They will cut it for you too. I premeasured the length that I needed. I wanted it to go from wall to wall but you can do any size that you want of course.
Step 4 ~ Measure for the hooks. I used 5 so I started from the center. On the other two sides I measured an equal distance for the remaining screws.
Step 7 ~ Measure and mark the studs on the ceiling and then measure your board so you can predrill the holes for your screws or nails. I didn't take a picture of this step as I was teetering on the ladder and couldn't spare the use of my other hand to hold the camera so you'll just have to imagine me with my tape measure. :)
So here's the finished product. Baskets that I once had strewn on the bottom of the pantry are now neat and out of the way until I need them. This would also be cute with hanging dried flowers or extra cooking pans. The possibilities are limitless.
shared with ~
savvysouthernstyle.net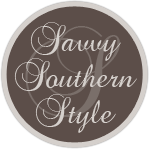 theshabbycreekcottage.com