I'm inspired by many of the things at Anthropologie but I've had my eye on one particular item for some time. I love the way they display items in creative ways and I have always wanted to try building some of their industrial shelving. They take pipes and plumbing fittings and use them to hold up simple wood shelves. How hard could that be?
First, I took a picture of their shelves so I could remember with accuracy how they where put together. Then I took a trip to Home Depot to get supplies. Besides all of the strange looks I received by all of the men in the plumbing aisle, it was pretty painless picking out the parts that I needed....
To make 2 - 6' long shelves:
4 - 3/4" galvanized floor flanges (This is the part that attaches to the wall.)
4 - 3/4" X 10" galvanized pipes (Nipple is what it's called on the receipt.)
4 - 3/4" X 1/2" galvanized elbows
***Don't let the plumbing terminology scare you, this is so easy!***
2 - 1X8X6 boards (I used poplar wood but you can select whatever you'd like, just make sure the boards are not warped!) They need to lay as flat as possible because they will not be attached to anything and will just rest on the pipes.)
stain of your choice (I used walnut gel stain ~ Min wax)
paint of your choice (I used Behr Pine Scent)
primer
sand paper ~ Medium
Ez Anchor screws (I use the 50 pound metal ones)
I already had the paint, stain, primer, sandpaper and screws, so with the plumbing parts and wood it cost $ 98.75. Not bad for two really cool looking shelves. If you have some salvaged wood, that would be even better!
First, use a primer paint on the galvanized pipes and fittings, After that is dry, paint over with your desired color. I used green for a pop of color. Anthro's are black.
Next, prepare your boards by sanding all of the sharp edges and lightly sanding the entire board. Wipe of dust and then stain.
Now you're ready to install. Measure the area for your shelves. I placed my flanges in 6" from the edge of the board. If you can, try to find a stud and screw in to that. If you can't, use heavy duty Ez Anchors in each hole ~ you'll have four total. ****Be very careful of the amount of weight that you put on the shelves, books especially can be very heavy. You don't want your shelves to fall.*** Remember, these pipes are not only holding up themselves and the boards but also everything that you put on them.
I thought it was easier to put the floor flanges on first and then screw the pipes and fittings on, but you could put it together first and then install. Once your pipes are up, just rest your boards on top and you're ready to accessorize.
If you go with longer shelves, you will probably need an additional support pipe in the center as well.
This is a fun and inexpensive way to get really long shelves which can be hard to find. I used these in our study but they would be adorable in a kid's room or game room.
sharing with ~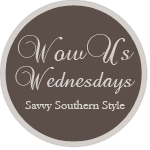 http://savvysouthernstyle.net