So if you've been following me lately, you can see that I'm on a sign kick. At the end of last year it was taking off cabinet doors and now it's making signs. I was pretty pleased with the way the market sign came out for the pantry so when I saw an empty wall in my laundry room above the fridge that was it.
So you'll need the same items as the Market sign:
wood boards ~ I used 3 pieces of larger boards plus two narrow boards to attach them all together. I made a sign similar to this in our old beach condo which we sold furnished so I thought it would be nice to have one here. (of course that one said fresh fish sold here ~ so that's different)
screws ~ they will need to be the depth of your boards (I used 1 1/4")
drill and bit
paint
stain I used Min Wax walnut
stencils unless you're a great artist with letters
sandpaper
First purchase your boards. They'll cut them for you at Home Depot.
Next, I sanded the rough edges and the entire board to hold the stain.
I stained the boards first because I wanted a rustic finish.
Next I painted white over the stain. I made sure to paint it so that some of the stain shows through like it is weather worn. Some people will paint the entire thing and then sand down the worn part but to me that's just an extra unnecessary step to get the same look.
Next attach the boards together with wood strips. I wanted to see them but you could certainly put them on the back side if you don't. You will want to drill a pilot hole so you don't split the wood when you're screwing.
Once both sides are attached, you can start taping down your stencils and paint. Remember to blot on the paint lightly so it doesn't bleed underneath the stencil.
What do you think? This is just too cheap and easy not to try. I'd love to hear about your sign if you make one. Let me know if you try this out.
shared with ~
savvysouthernstyle.net
,
theshabbycreekcottage.net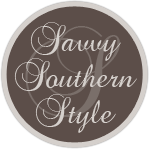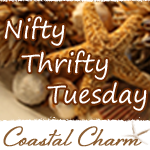 </
a